Introducing Reveal
iQ
RevealiQ is an innovative operations management application that increases operational efficiency and improves business intelligence. RevealiQ is designed around important workflow tasks that must be managed well to increase operational efficiency and improve strategic decision making. RevealiQ is a SaaS based, mobile application that is easy to use and integrate into workflow. The application empowers business leaders with the ability to expertly manage four key business drivers that have a direct impact on business performance: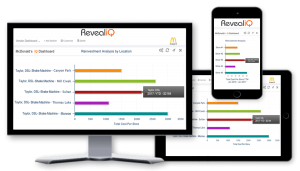 1. Equipment performance – Optimizing equipment performance to elevate sales and reduce unplanned expenses
2. Employee engagement – Increasing employee productivity via critical task management capabilities & reporting
3. Vendor support – Creating a partner network aligned to your true business priorities
4. Forecasting – Developing a proactive plan for expense forecasting while understanding P&L business drivers
The strength of RevealiQcomes from simplicity in design. Easy to use, informative dashboard technology is core to the application. The iQ Dashboard is an innovative feature of RevealiQ. It delivers data visualization charts that simplify complex data into easy to understand intelligence providing management with at a glance awareness of current or historic performance. Multiple dashboard types and styles can be created to support strategic, tactical and operational reporting and planning. The iQ Dashboard is fully configurable and customizable by end user preference. Management can track critical performance objectives, metrics and other key data points relevant to business location, equipment type, employee task, vendor investment or a specific process. The iQ Dashboard provides the ultimate platform for tracking, reporting and analyzing operational performance!
RevealiQ is part of the Creative Core Technologies product portfolio. Creative Core Technologies is headquartered in Bellevue, WA and leads in the innovation of the industry's most advanced SaaS based operations management applications. The leadership team has over 90 years of combined business strategy, operations and technology experience. RevealiQ is designed by business managers and developed by our nation's leading developers who know how to innovate value through the the intersection of business and technology. RevealiQ is breaking the "status quo" in operations management!